IEEE
IEEE MSIT Student Branch
IEEE is the world's largest professional association dedicated to advancing technological innovation and excellence for the benefit of humanity. IEEE MSIT is a Student Branch of IEEE, USA established in the year 2009 to edify technical skills in a dexterous manner among the students of MSIT. The main objective laid down at the very beginning was to promote IEEE amongst the students. IEEE MSIT with its aim of "leading the wave of change" aspires to achieve excellence in all its endeavors. The Student Branch is committed to help young undergraduates evaluate their career goals, polish their technical skill set and create the building blocks of a lifelong and diverse professional network by providing them a plethora of opportunities.
IEEE MSIT has been significant in organizing workshops, short term project initiatives, scientific excursions, lecture Series and competitions since its beginning. IEEE MSIT has conducted many hands-on workshops on robotics and Arduino, web development, and Android amongst others. In this academic session, IEEE MSIT launched the Short Term Project Initiative where students from 1st and 2nd year worked with the 3rd and 4th year students in the field of machine learning, game development using Python, electronics, and robotics for 2 months to gain practical knowledge in their interest area. The flagship event of IEEE MSIT, "Focal Point" has also been extremely successful with eminent speakers and guests such as Dr. Kiran Bedi, First women IPS officer, Mr. Bharat Sethi, Founder of postergully.com, and Ms. Rashmi Anand, famous author and domestic violence survivor who works with the Delhi Police Crime Against Women Cell.
To promote specialized education and awareness amongst the students, IEEE MSIT has 3 Chapters under it- IEEE MSIT Microwave Theory and Technique Society (MTT-s), IEEE MSIT Power and Energy Society (PES), IEEE MSIT Computer Society (CS). IEEE MSIT MTT-s organizes Summer Grant Program (SGP) every year based on the domains of Radio Astronomy and Astrophysics. As part of the SGP, the students have previously worked on projects like NASA Radio Jove, Sudden Ionospheric Disturbance, Itty Bitty Telescope and Meteor Sky wave Detection. Many excursions like ARIES, Nanital and a trip to Microwave lab in DU have been organized by MTT society of IEEE MSIT. IEEE MSIT PES successfully organized the October Projects Week this year where students were mentored by their seniors and worked on projects like door lock system, solar power lightening, and multimeter using Arduino. This week long event culminated with a competition held on IEEE Day, 6th October 2015, and the winners were awarded with a 2 months subscription of JMoon Labs, giving them a chance to work on their own ideas and explore. IEEE MSIT Computer Society covers all the major areas of computing and information technology. It has organized workshops and seminars on Data mining, Networking, Web Development and Augmented reality. This year it organized CodeStart- a competitive programming competition which saw participation in huge numbers.
IEEE MSIT WIE is an affinity group dedicated to promoting women engineers and scientists. As part of STAR (Students, Teachers and Research), IEEE MSIT WIE has organized interactive sessions in schools to impart knowledge about engineering and the STEM field and inspire young children, especially girls, to join it. It has also organized Breast Cancer Awareness session and Self Defense workshops.
In order to make the benefits of IEEE accessible to maximum student members, IEEE MSIT believes in the concept of Special Interest Groups (SIG's). The 6 SIG's that are active this year aim at providing an avenue to people with similar interests, enabling them to come together, explore their fields of interest and learn together. The society regularly manages Special Interest Groups namely C/C++, Android App Development, Canvas (Designing), Embedded and Robotics, Full stack web development using Python, and Java to provide a practical edge to the students in an artful manner
Our student members have represented IEEE MSIT Student Branch at various National and International platforms like the IEEE European Microwave Conference held in Paris, France, R10 (Asia Pacific) Student- WIE- YP Congress 2015, Colombo, Sri Lanka, IEEE PES Innovative Smart Grid Technologies Europe 2014 (ISGT Europe), and All India Student Congress. The efforts and allegiance of the members of IEEE MSIT has been commended by many. IEEE MSIT won the prestigious Darrel Chong Student Activity Award in 2015 and 2013 for organizing laudable and value driven student activities. Dr. Poonam Bansal, Director, MSIT, Immediate Past Branch Counselor, IEEE MSIT and Dr. Vimal Gaur, Reader, CSE Department, Past Branch Counselor won the R10 Outstanding Branch Counselor award in 2015 and 2012 respectively for exemplifying IEEE's commitment towards technical and professional development of students and for their constant guidance and support which led to the proliferation of IEEE MSIT Student Branch.
IEEE MSIT Student Branch has bequeathed dedication, passion and ardor to its members and the society shall continue this legacy to serve students and hence the institution with utmost zeal and dedication. The vision of the student branch can be aptly defined by the words of Henry Ford
"Coming together is a beginning. Keeping together is progress. Working together is success."
IEEE MSIT Branch Counselor: Dr. Anupama Kaushik (Associate Professor, IT 1st shift)
IEEE MSIT Chairperson: Sanidhya Parasar (sanidhyaparasar580@gmail.com)
Link to the IEEE MSIT website: http://ieee.msit.in/
e-mail: ieee@msit.in
E-CELL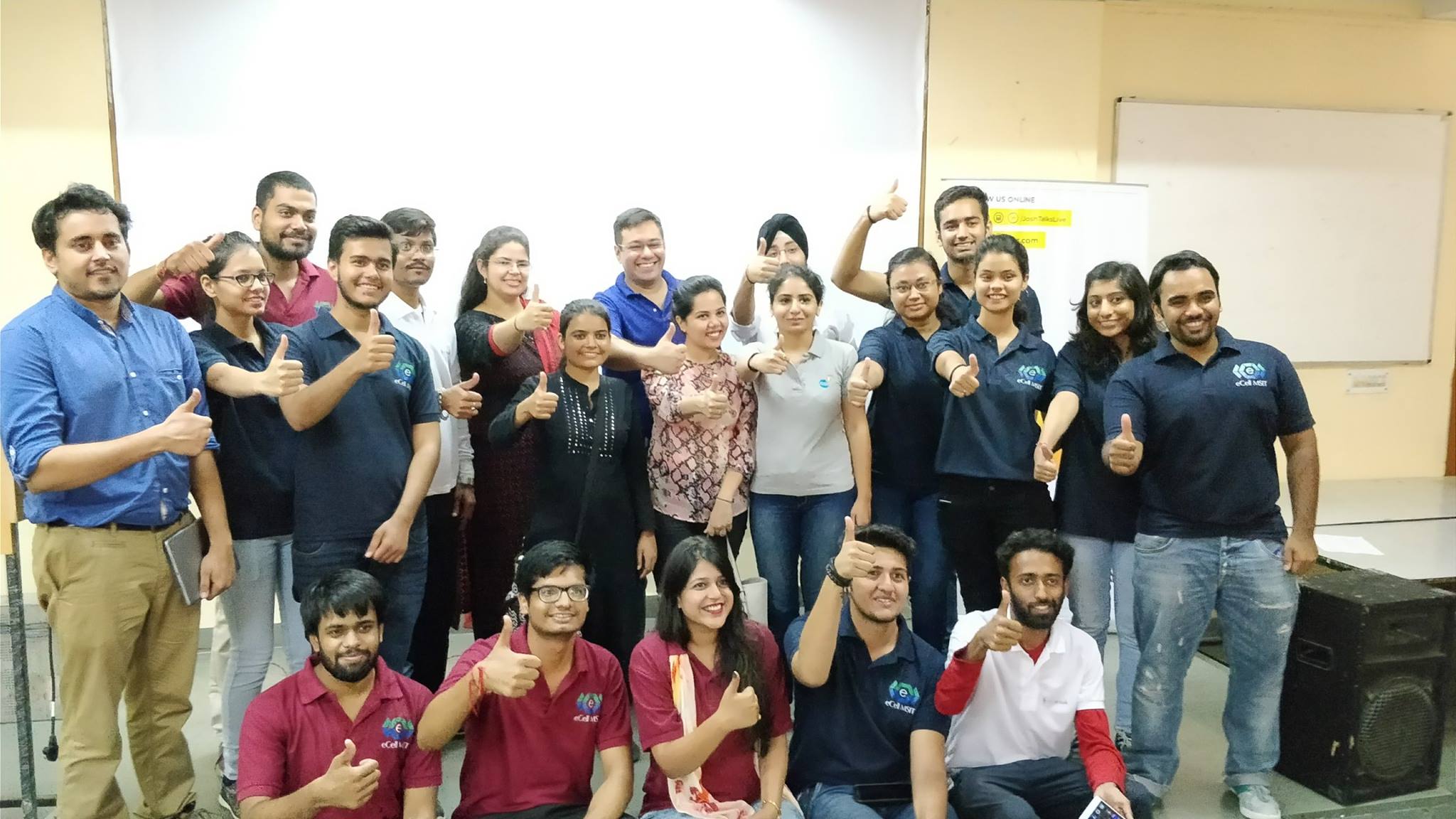 The Entrepreneurship Cell of MSIT, also known as, "eCell MSIT" is an initiative to provide the entrepreneurial minds with an open platform to gain knowledge about entrepreneurship, startups- ventures. Our sole aim is to let the concept of entrepreneurship burgeon and evolve. We aim at building a strong urge for people to innovate, take risks, shoulder social responsibility and indulge in creative execution of vibrant business ventures.
eCell MSIT was found in 2014 by the students in order to ignite the spark of entrepreneurship and teach the students basic concepts, procedure and terminology involved in entrepreneurial life, startups and ventures. We aspire to create a hub for the students to explore the world of business. eCell MSIT provides large opportunities to interact with famous and renowned people from the field of entrepreneurship through the meetups and workshops held frequently. In February 2017, CNBC India listed us among Top 120 E-Cells in India.
eCell conducts regular meetings and workshops for the students to provide knowledge and hands-on experience of real-life challenges. eCell MSIT has not only made students understand about entrepreneurship but has also been providing them with internship opportunities through internship fairs. The annual Entrepreneurship Summit, conducted by eCell MSIT, has been one of the major and successful events at MSIT. An 'Entrepreneurship Course' has been introduced from the session 2017-18 which allows students to learn different aspects and topics straight from the field experts. Student community has always enjoyed Startup Visits planned by eCell MSIT over the last few years.
One can know more through our regularly updated Facebook page (https://facebook.com/ecellmsit/) or refer our website (https://www.ecellmsit.in/) to read interesting articles and know more about the upcoming event. Drop us a mail at connect@ecellmsit.in.

eCell MSIT Convener: Dr. Neeru Rathee (Associate Professor, ECE 1st shift)
INNOVATION
MHRD's Innovation cell (MIC) is an initiative by Ministry of Human Resource Development, Govt. of India, established to foster the culture of innovation amongst all Higher Engineering Institutions (HEIs) and inspire young students to work with new ideas.
Under MIC, a network of IICs has been established across selected HEIs to promote innovation and make the institution's ecosystem innovation friendly.
Goals of IIC MSIT
Nurture students to transform their ideas into prototypes.

Prepare institute for Atal Ranking of Institutions on Innovation Achievements Framework.

Develop better Cognitive Ability for Technology Students.
Functions of IIC MSIT
Organizes interactions with entrepreneurs and investors that creates a mentor pool for student innovators.

Conducts innovation and entrepreneurship-related activities prescribed by MIC in time bound fashion.

Rewarding innovations and share success stories.

Organizes Quizzes, Hackathons, Idea competition etc. with the involvement of industries.

Expanding networks with various industrial organizations.
Departments in IIC MSIT
Innovation Dept: Aims to develop an ecosystem for innovation in the institute and encourage students to work with new ideas.

Entrepreneurship Dept: Develops Start-Up supporting mechanism and networks with the industries to provide the students with necessary exposure.

Social Media: Shares the success stories of students so that their work is recognised

.
Dr. Sudesh Pahal
(ECE 1st shift)
:
Convener
Dr. Neeru Rathee (ECE 1st shift): Startup Coordinator
Ms. Geetika Dhand (CSE 1st shift): Innovation activity Coordinator
Dr. Kavita Sheoran (CSE 1st shift): Innovation activity Member
Mr. Adeel Hashmi (CSE 2nd shift): Social media coordinator
Mr. Sitender Malik (IT 2nd shift): ARIIA, NIRF Coordinator
Ms. Geetanjali Sharma (ECE 1st shift): Internship Coordinator
TECHSOC
TechSoc, the technical society of MSIT was formed by the amalgamation of various technical clubs pre-existent in the college. This was done to channelize the scattered efforts and to provide a common platform which catered to the technical needs of the students.
Under the able guidance and support of our conveners Ms. Kavita Sheoran(Asst. Professor) and Ms. Nishtha Jatana(Asst. Professor), the society aims to flourish and continue with providing ample opportunities for the betterment of the students.
TechSoc serves it's audience by organizing various events in the form of speaker sessions, technical seminars and hands-on workshops on subjects from various domains. Some of them are as follows:
1. "Informative Seminar on Google Summer of Code" provided students with a complete guideline on participating and completing this coveted open source program.
2. In the session "Industrial Analysis on IoT and Embedded Systems" students were provided with a roadmap to enter this field, enlightened on future opportunities in IoT and role of embedded systems in various domains.
3. Another successful event was a two day "Hands-on workshop on Git and Github" where in two 2-hour sessions around 50-60 attendees were addressed. Students from knowing nothing about Git and Github were able to comfortably use it without any problem.
4. Apart from these there have been sessions on concepts like "Career in Computer Science", "Introduction to Data Science", "Robotics" and online sessions on "Android Development".
Another initiative in this direction is the Mentor-Mentee program which involves courses like web development, learning python etc. Each course involves learning technologies, using online resources, with weekly graded assignments being given by the mentors.
We aim that the associates always have a technically enriching time with TechSoc.
Convener: Dr. Kavita Sheoran (Reader, CSE 1st shift), Ms. Nishtha Jatana (Assistant Professor, CSE 2nd shift)
PRAKRITI
Prakriti, the eco club of MSIT, was founded on 3rd March ,2010, in the wake of need for a college society that aims at promoting and increasing environmental consciousness, awareness and responsibility amongst the college youth and the populace.
As a non profitable society, Prakriti is committed to the belief that solutions are more effective and enduring when they involve mass local participation in planning and implementing projects.
Prakriti also exists to support and strengthen NGOs (such as Goonj) and rural or urban communities (like Lions' Club) that work towards betterment of the society.
Through its various programs, Prakriti provides college students opportunities to develop problem-solving, decision-making and leadership skills, which enables them to participate in future community developments as engaged and active citizens.
An important part of our growth and motivation as people , lies in contributing to the greater good; being part of something greater than ourselves. So, take the privilege and join hands with us in an attempt to transform our society's present ecological scenario.
Teacher-in-Charge: Dr. Savita Ahlawat (Reader, CSE 1st shift)
MUTANTS
OCTAVE.pdf AARAMBH.pdf ASTITVA.pdf
In the assembly of the 'to-be-engineers' who tirelessly deal with codes and circuits, there exist a group of people, together called as MUTANTS CULTURAL SOCIETY, who've got an ardent love for cultural activities.
Mutants Cultural Society is a collective of Four Societies – OCTAVE Music Society, AARAMBH Dramatics Society, UNITY Street Dance Crew and ASTITVA Dance Society. All these societies work hand in hand with each other and as a part of MUTANTS always work for the betterment of the cultural scenario as well as for the upliftment of various talented students of MSIT.
With a constant support and motivation from the college administration and faculty, the society aims to have well planned, well prepared cultural team in MSIT. From regular training and practice sessions, to each rigorous jamming period, the determination of MSITians, becomes evident from their stage performances in various institutions.
e-mail: mutant@msit.in
Mutants Convener:
Dr. Anju Singh Dhillon (Assistant Professor, Applied Sciences - 2nd shift), anju.dhillon@msit.in
Ms. Deeba Naqvi (Assistant Professor, Applied Sciences - 1st shift), deeba.naqvi@msit.in
Student Coordinator:
J Ashwin Nair (7065599126, kannan14oct@yahoo.in)
Student Head:
| | | | |
| --- | --- | --- | --- |
| OCTAVE | J Ashwin Nair | 7065599126 | kannan14oct@yahoo.in |
| AARAMBH | Tanmay Mittal, Janeshtha Vahi | 9560125650, 9953869479 | tanmay10p17@gmail.com, janeshtha538@gmail.com |
| UNITY | Divyansha Dhawan | 9810921666 | divvy.destiny@gmail.com |
| ASTITVA | Kartik Kaushik | 7503588797 | krtkksk@gmail.com |
UBA
Unnat Bharat Abhiyan Cell MSIT is the participating student body of MSIT, which is a part of the flagship initiative undertaken by Ministry of Human Resources and Development (MHRD) to bring out positive transformational change in the rural areas through the help of technical institutions. UBA Cell MSIT has been committed to solve the problems faced by the residents of five villages adopted by MSIT by suggesting innovative solutions.
Adopted Villages:
Asalatpur

Dabri

Nangli Jalib

Nangal Raya

Tihar Gaon
Departments:
Technical, Social media, field, literary

Activities under UBA, MSIT
Conducting surveys in adopted villages

Identifying problems and issues of the area

Organizing Gramsabha, awareness camps, Nukkad natak, Rallies related to issues identified

Preparing Village Development Plans(VDPs)

Interaction with local residents, distribution of pamphlets for sanitation, literacy awareness

Working on Technical projects to resolve their problems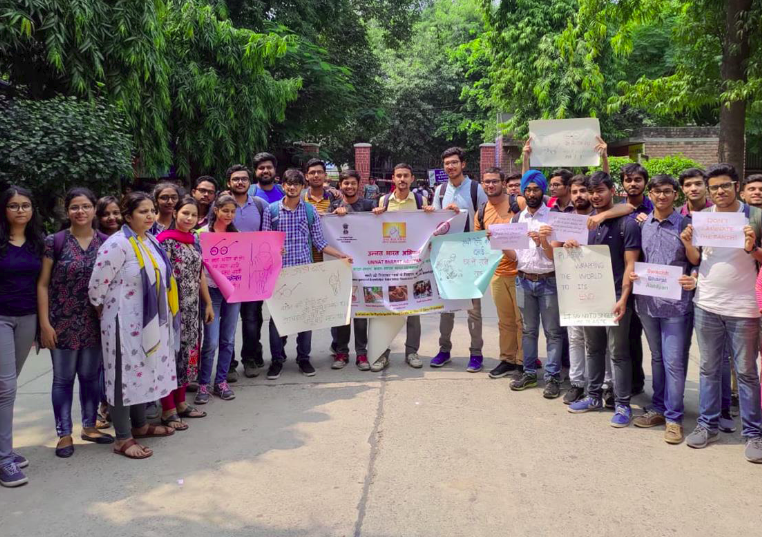 Convener: Dr. Sudesh Pahal (8588964280)
Student Coordinators: Paras Jain, Garvit Vijayvergiya
Links for social media:
instagram.com/unnatbharatmsit
twitter.com/unnatbharatmsit
NSS
A self-financing unit of NSS under GGSIPU NSS Cell was formed in Maharaja Surajmal Institute of Technology on 19th Sept 2019. National Service Scheme (NSS) is a voluntary and value-based student youth programme which was launched in 1969 by ministry of Youth Affairs and sports in pursuance of one of the recommendations of the Education Commission. NSS aims at the personality and character development of students in school and college.
NSS Volunteer Enrollment Link MSIT Janakpuri
For any queries, email nssclub@msit.in
DSC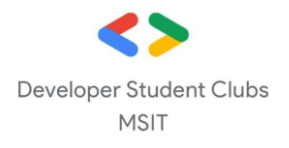 Developer Student Club, Maharaja Surajmal Institute of Technology (DSC-MSIT) is a community of college students powered by Google. DSC MSIT helps students to grow with the latest technology trends and student opportunities. This community provides a peer-to-peer learning environment, while building solutions for community and localbusinesses.Solutions built by a developer student club are supported by GoogleDeveloper technologies.
This student community has organized various events in the past, and continues to conduct workshops/competitions for various technical domains.Organizing such workshops and competitions have helped students to bridgethe gap between theory and practice.
DSC MSIT aims to encourage students to learn while building technical solutions that solve everyday problems.
Connect with DSC MSIT :
Website : https://dsc.msit.in/
Facebook : https://www.facebook.com/dscmsit
Instagram : https://www.instagram.com/dscmsit/
DSC MSIT Convener: Dr.Prabhjot Kaur (Associate Professor, IT 1stShift)
DSC MSIT Lead : Mukul Kumar (mukuldscmsit@gmail.com)