NSS
A self-financing unit of NSS under GGSIPU NSS Cell was formed in Maharaja Surajmal Institute of Technology on 19th Sept 2019. National Service Scheme (NSS) is a voluntary and value-based student youth programme which was launched in 1969 by ministry of Youth Affairs and sports in pursuance of one of the recommendations of the Education Commission. NSS aims at the personality and character development of students in school and college.
NSS Volunteer Enrollment Link MSIT Janakpuri
For any queries, email [email protected]
IEEE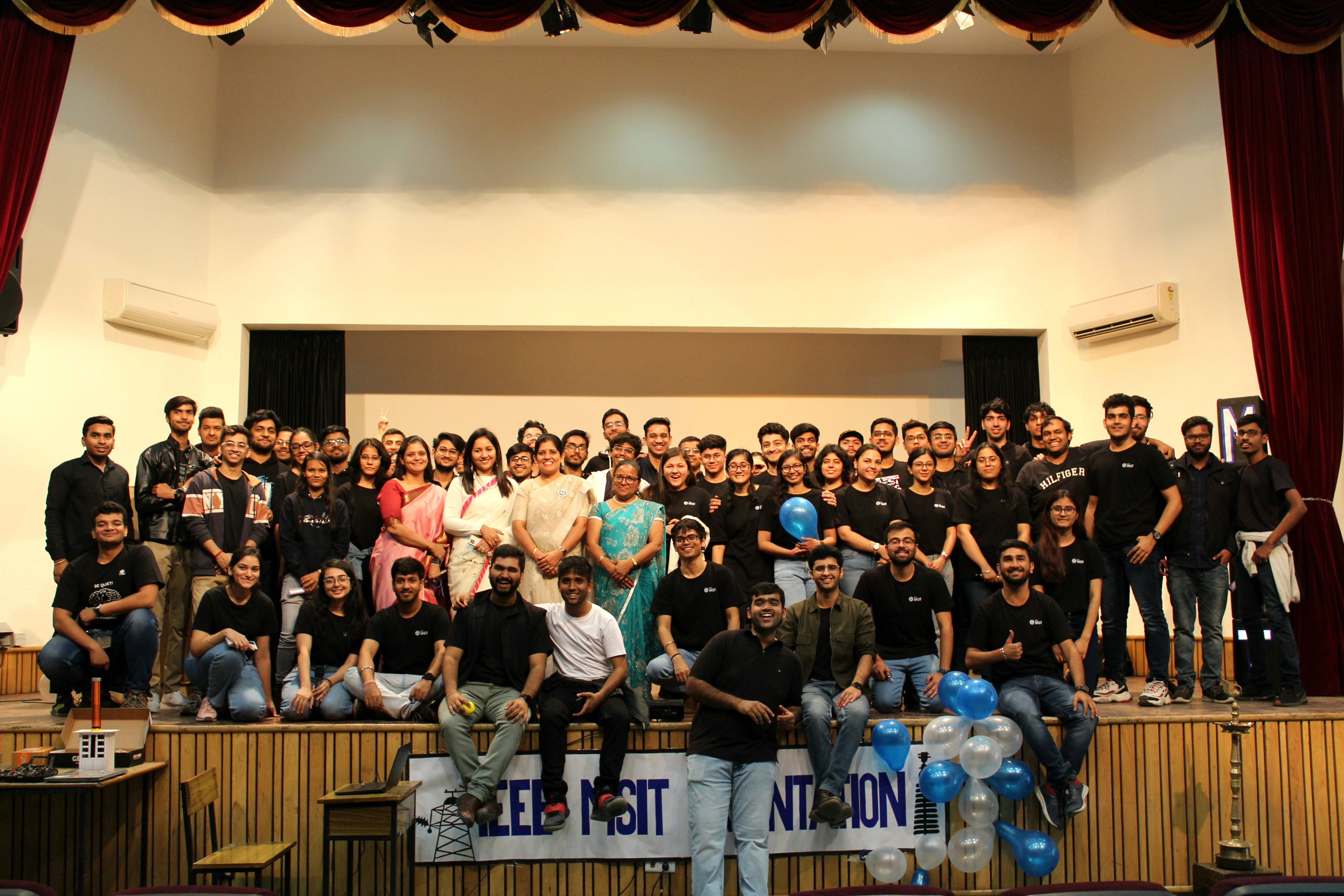 Established in 2009, IEEE MSIT, a dedicated Student Branch of IEEE, focuses on enhancing technical skills and promoting IEEE engagement among MSIT students. The branch guides undergraduates in shaping career goals, developing technical expertise, and building a professional network. Activities include hands-on workshops in Robotics, Arduino, Web development, and Android.
The "Technical Project Exhibition," a flagship event, features distinguished speakers like Dr Kiran Bedi, Mr Bharat Sethi, and Ms Rashmi Anand, contributing to a rich learning experience.
-------------------------------------------------------------------------------------------------------------------
IEEE MSIT has 3 Chapters and 1 affinity group under it: Computer Society (CS), Power and Energy Society (PES), Robotics and Automation Society (RAS), and Women in Engineering (WiE).
CS advances tech through workshops on Data mining, Networking, Web Development, and Augmented reality.
PES shares insights on electrical power via seminars and workshops, encouraging projects like door lock systems and solar lighting.
RAS facilitates knowledge exchange with workshops on Antenna Fabrication, Electromagnetism quizzes, BOT making, webinars, and Arduino workshops.
WIE empowers women through STAR initiatives, interactive school sessions, and events on Breast Cancer Awareness and Self-Defence.
--------------------------------------------------------------------------------------------------------------------
Introduction:
- IEEE MSIT, dedicated to maximizing the benefits of IEEE for its student members, operates through a strategic framework that includes Special Interest Groups (SIGs).
Special Interest Groups (SIGs):
- IEEE MSIT boasts 13 SIGs, providing a collaborative space for individuals with shared interests.
- These SIGs serve as dynamic platforms, facilitating collaboration and exploration within fields such as Deep Learning, Machine Learning using Python, Cyber Security, Android, IoT using Raspberry Pi, Embedded Systems, Designing, and Video Editing.
- Crafted with precision, these SIGs impart practical knowledge, granting students a unique and artful edge in their learning journey.
Achievements and Representation:
- IEEE MSIT's influence extends to national and international platforms, exemplified by its participation in prestigious events like the IEEE European Microwave Conference in Paris, France, and the R10 (Asia Pacific) Student-WIE-YP Congress 2015.
-IEEE MSIT hosted software engineer Mohammad Fraz on 19th April 2023, who emphasized practical coding skills and insights from his experiences at Google and Cure. fit, fostering an interactive session for students.
-IEEE MSIT hosted Tech Day on March 27, 2023, inviting Love Babbar and Lakshay Kumar to guide freshmen on excelling in the field of tech.
-IEEE MSIT conducted its annual flagship tech fest, "Avensis," on April 19-20, 2023, featuring various competitions for students to participate in.
-IEEE MSIT celebrated IEEE Day on October 9, 2023, inviting eminent personalities like Yash Garg (Founder of Apna College) and Parikh Jain (Founder of Propeers and Founding member of Coding Ninjas) to enlighten students about the tech field.
Individual Member Achievements:
- Deepali Jain secured the Richard E. Mervin Student Scholarship and Grace Hopper Celebration India Student Scholarship in 2017.
- Mr. Yashraj Garg, a member, attended the Writing Sessions Meeting organized by the IEEE Standards Association in Germany in October 2019, fully funded by IEEE.
Awards and Recognition (2022):
2018-2019
Akriti Gupta & Ashish Kapoor: Outstanding Student Volunteer Awards.
Apoorv Arora & Brayan Abraham: Recognized for academic performance and contributions.
2019 - 2020
Yashraj Garg, J Ashwin Nair, and others: Multiple Outstanding Volunteer Awards, participation in technical challenges.
2020 - 2021
J Ashwin Nair: Continued recognition, including the J.K. Pal Memorial Award.
Yukti Mohan, Rakshit Satija, and others: Awards for volunteering and contributions in specific areas.
2021- 2022
1. Paras Jain: Outstanding WIE Student Volunteer Award.
2. Akansha Mahesh Pant & Others: Winners in competitions and selected as delegates for events.
3. J Ashwin Nair was distinguished with the IEEE R10 SAC Outstanding Volunteer Award.
4. Prerna Sherawat's contributions were honoured with the Dr. J.K. Pal Memorial Award.
2022
Saumya Taneja: Outstanding WIE Student Volunteer and Delhi SSN WIE Coordinator
Abhinav Pandey: Dr. J.K. Pal Memorial Award
Kshitij Saxena: Outstanding Student Volunteer Award.
2023
Piyush Singh, Aman Kumar, and Pranjal: Appointed as Ambassadors for IEEE Day and Xtreme events.
Krish Gupta: Chief Organizer for Avensis 2023.
IEEE MSIT: Received Special Recognition of Outstanding Student Branch Award in the Asia Pacific Region by IEEE R10
IEEE MSIT: Won the first prize in the IEEE Day Photo Contest (in the STEM category) on the occasion of IEEE Day 2023.
Other achievements:
1. Dr Vimal Haur and Dr Poonam Bansal, former Branch Counsellors, received the R10 Outstanding Branch Counsellor award in 2012 and 2015, respectively.
2. IEEE MSIT has been honoured with the Darrel Chong Student Activity Award in 2013 and 2015 for organizing student activities.
3. The IEEE MSIT Student Branch was awarded the Best Branch Presentation Award at the Delhi Section Congress 2019.
4. IEEE MSIT PES achieved consistent excellence, securing a rank in the Top 20 PES Student Branch Chapters in Region 10 for three consecutive years.
5. In 2022, IEEE MSIT PES achieved an outstanding rank of 17 in Region 10 and secured the top position in the Delhi Section.
6. Dr. Anupama Kaushik received the Outstanding Branch Counsellor Award.
7. Dr Jyoti Jain was honoured with the Outstanding Engineer Award, IEEE PES, for her chapter advising for 2020-21 activities at IEEE MSIT PES.
8. The student members have consistently secured the Outstanding Student Volunteer Award for five consecutive years, the Dr. J.K. Pal Memorial Award for four consecutive years, and the Outstanding WiE Student Volunteer Award in 2018 and 2020.
9. Success in competitions such as Google CodeJam, ACM_ICPC, and CodeChef Snackdown highlights the members' prowess.
Continued Excellence and Legacy:
- These recent awards complement a legacy of achievement. IEEE MSIT members have consistently secured the Outstanding Student Volunteer Award, Dr. J.K. Pal Memorial Award, and Outstanding WiE Student Volunteer Award for multiple years.
- Organizational awards, such as the Outstanding Chapter Performance Award in 2016 and the Best Branch Presentation Award at the Delhi Section Congress 2019, underscore IEEE MSIT's dedication to excellence.
IEEE MSIT Branch Counselor: Dr. Anupama Kaushik (Associate Professor, IT)
IEEE MSIT CS Chapter Advisor: Dr. Pooja Kherwa (Assistant Professor, CSE)
IEEE MSIT PES Chapter Advisor: Dr. Jyoti Jain (Associate Professor, EEE)
IEEE MSIT RAS Chapter Advisor: Dr. Anshul Pareek (Assistant Professor, ECE)

IEEE MSIT Chairperson: Krish Gupta, IT ([email protected])
Link to the IEEE MSIT website: http://ieee.msit.in/
e-mail: [email protected]
IEEE MSIT Social Media:

E-CELL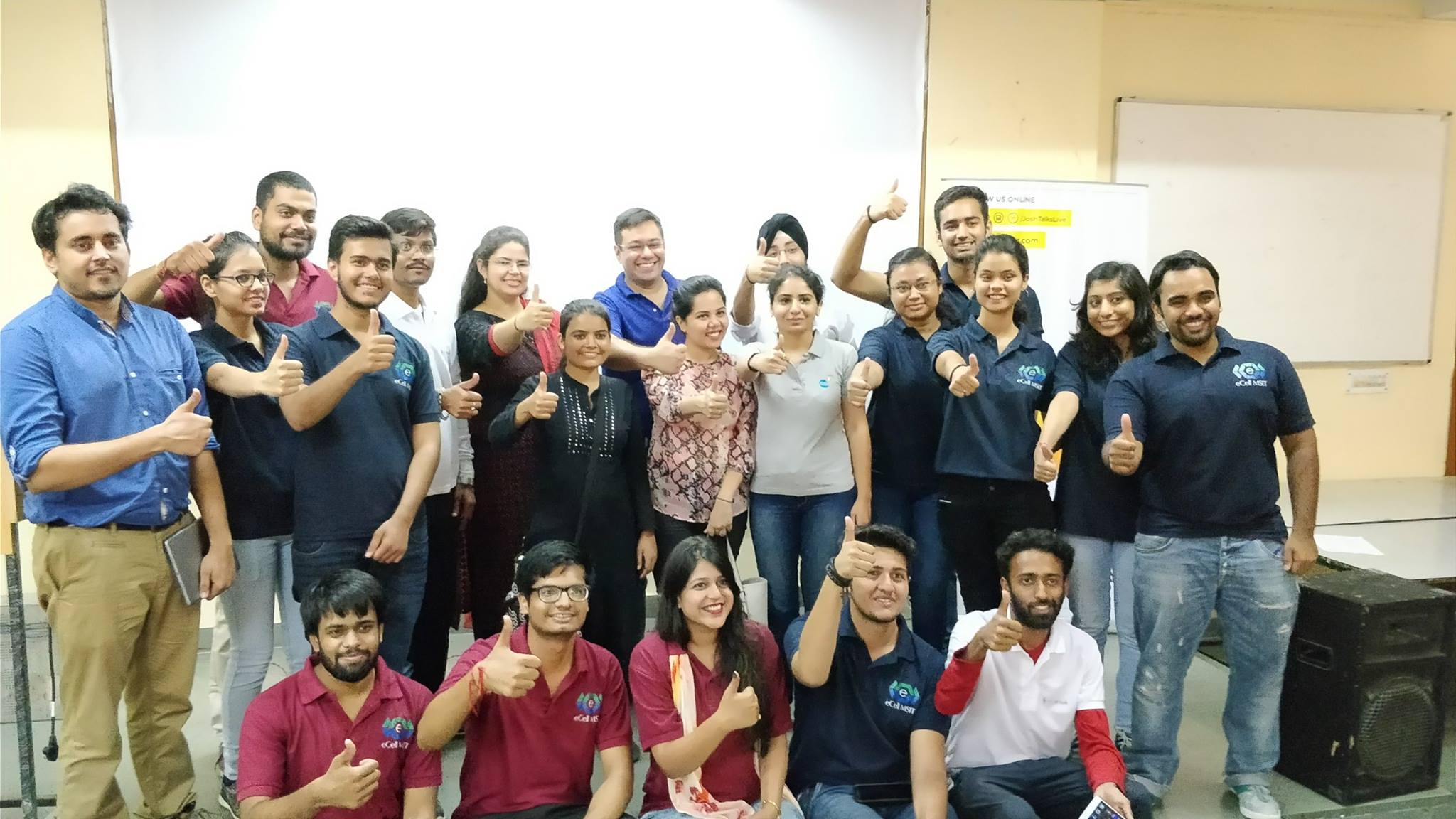 The Entrepreneurship Cell of MSIT, also known as, "eCell MSIT" is an initiative to provide the entrepreneurial minds with an open platform to gain knowledge about entrepreneurship, startups- ventures. Our sole aim is to let the concept of entrepreneurship burgeon and evolve. We aim at building a strong urge for people to innovate, take risks, shoulder social responsibility and indulge in creative execution of vibrant business ventures.
eCell MSIT was found in 2014 by the students in order to ignite the spark of entrepreneurship and teach the students basic concepts, procedure and terminology involved in entrepreneurial life, startups and ventures. We aspire to create a hub for the students to explore the world of business. eCell MSIT provides large opportunities to interact with famous and renowned people from the field of entrepreneurship through the meetups and workshops held frequently. In February 2017, CNBC India listed us among Top 120 E-Cells in India.
eCell conducts regular meetings and workshops for the students to provide knowledge and hands-on experience of real-life challenges. eCell MSIT has not only made students understand about entrepreneurship but has also been providing them with internship opportunities through internship fairs. The annual Entrepreneurship Summit, conducted by eCell MSIT, has been one of the major and successful events at MSIT. An 'Entrepreneurship Course' has been introduced from the session 2017-18 which allows students to learn different aspects and topics straight from the field experts. Student community has always enjoyed Startup Visits planned by eCell MSIT over the last few years.
One can know more through our regularly updated Facebook page (https://facebook.com/ecellmsit/) or refer our website (https://www.ecellmsit.in/) to read interesting articles and know more about the upcoming event. Drop us a mail at [email protected].

eCell MSIT Convener: Dr. Neeru Rathee (Associate Professor, ECE)
IIC
MHRD's Innovation Cell (MIC) is an initiative by the Ministry of Human Resource Development, Govt. of India, established to foster the culture of innovation amongst all Higher Engineering Institutions (HEIs) and inspire young students to work with new ideas.
Under MIC, a network of IICs (Institute Innovation Cell) has been established across selected HEIs to promote innovation and make the institution's ecosystem innovation-friendly.
Goals of IIC MSIT
Nurture students to transform their ideas into prototypes.

Prepare institute for Atal Ranking of Institutions on Innovation Achievements Framework.

Develop better Cognitive Ability for Technology Students.
Functions of IIC MSIT
Organizes interactions with entrepreneurs and investors that create a mentor pool for student innovators.

Conducts innovation and entrepreneurship-related activities prescribed by MIC in time bound fashion.

Rewarding innovations and sharing success stories.

Organizes Quizzes, Hackathons, Idea competitions, etc. with the involvement of industries.

Expanding networks with various industrial organizations.
Departments in IIC MSIT
Innovation Dept: Aims to develop an ecosystem for innovation in the institute and encourage students to work with new ideas.

Entrepreneurship Dept: Develops Start-Up supporting mechanisms and networks with the industries to provide the students with necessary exposure.

Social Media: Share the success stories of students so that their work is recognized

.
Dr. Sudesh Pahal (ECE): Convener (8588964280)
Dr. Neeru Rathee (ECE): Startup Coordinator
Dr. Geetika Dhand (CSE): Innovation activity Coordinator
Dr. Poonam Dahiya (ECE): IPR Coordinator
Dr. Kavita Sheoran (CSE): Innovation activity Member
Dr. Adeel Hashmi (CSE): Social media coordinator
Dr. Sitender Malik (IT): ARIIA, NIRF Coordinator
Dr. Amita Yadav (CSE): Internship Coordinator
Overall Student Coordinator & Society Head: Tanay Aggarwal (IT, [email protected])
Overall Student Coordinator: Ojash Bhardwaj (CSE)
Student Content Coordinator: Lakshay Chandna (CSE), Lovpreet Singh (CSE)
Student Publicity Coordinator: Sudesh Kumar (IT), Shivam Gera (IT)
Student Activity Coordinators: Himanshu Malik (ECE)
Student Tech Coordinator: Amar Sinha (CSE)
Social media links
Website: iic.msit.in
Instagram: https://Instagram.com/iic.msit
LinkedIn: https://linkedin.com/company/iic-msit

Contact Details
Email: [email protected]
NISP
The National Innovation & Start-up Policy of MSIT, also known as, "NISP" is an initiative ready to support the startup culture at Maharaja Surajmal Institute of Technology, New Delhi.

Our sole aim is to inspire the new entrepreneur, solopreneur & wantrepreneur. We help students to learn to convert their dreams into an action plan. We at MSIT have made sure that innovative minds get all the needed resources, support, and help to climb the stairs of success. We've always put in adequate efforts to give proper room for entrepreneurship, innovation, and ideas to bloom. Entrepreneurship workshops, Esummit, Seminars, and industrial visits have been our top priority to bridge the gap.

We've always worked for this and will continue to do the same irrespective of the outcomes because our success is determined by the efforts we put in not the output we get. or this we keep on organizing sessions by industry experts, entrepreneurs and internship drives to help everyone put their skills to practice.

We would love to nurture entrepreneurs of this new era, we work together as a family to build something for the community and make a profitable business out of it. We at NISP MSIT invites future entrepreneur to be a part of our program.
NISP MSIT Policy
Delhi Government's Startup Policy
Central Government's Startup Policy
eCell MSIT Convener: Dr. Neeru Rathee (Associate Professor, ECE)
UBA
Unnat Bharat Abhiyan Cell MSIT is the participating student body of MSIT, which is a part of the flagship initiative undertaken by Ministry of Human Resources and Development (MHRD) to bring out positive transformational change in the rural areas through the help of technical institutions. UBA Cell MSIT has been committed to solving the problems faced by the residents of five villages adopted by MSIT by suggesting innovative solutions.
Adopted Villages:
Asalatpur

Dabri

Nangli Jalib

Nangal Raya

Tihar Gaon
Departments:
Executive, Content & Social Media, PR, Outreach and Hosting, Sponsorship, Technical, Internal Affairs & EVM, Creativity

Activities under UBA, MSIT
Conducting surveys in adopted villages

Identifying problems and issues of the area

Organizing Gramsabha, awareness camps, Nukkad natak, Rallies related to issues identified

Preparing Village Development Plans(VDPs)

Interaction with local residents, distribution of pamphlets for sanitation, literacy awareness

Working on Technical projects to resolve their problems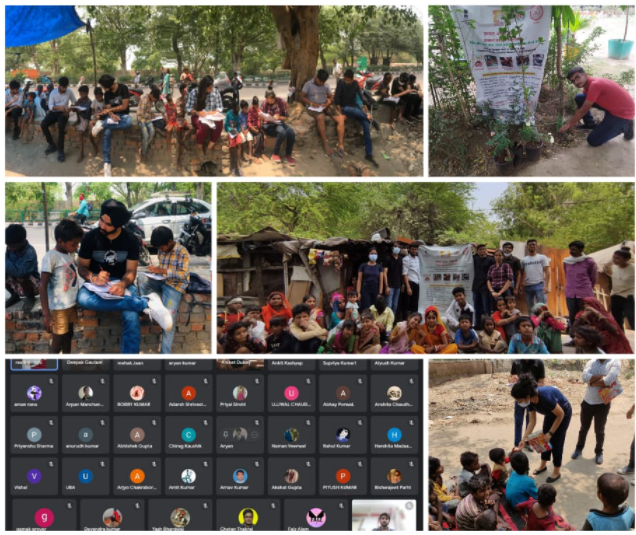 Convener: Dr. Kavita Sheoran (Assoc. Professor, CSE)
Links for social media:
instagram.com/uba.msit/
twitter.com/unnatbharatmsit
EBSB
India is a unique nation, whose fabric has been woven by diverse linguistic, cultural and religious threads, held together into a composite national identity by a rich history of cultural evolution, coupled with a freedom struggle that was built around the tenets of non-violence and justice. The spirit of mutual understanding amidst a shared history has enabled a special unity in diversity, which stands out as a tall flame of nationhood that needs to be nourished and cherished into the future.
Ek Bharat Shreshtha Bharat (EBSB) programme is an AICTE initiative, that aims to enhance interaction & promote mutual understanding between people of different states/UTs through the concept of state/UT pairing. The states carry out activities to promote a sustained and structured cultural connect in the areas of language learning, culture, traditions & music, tourism & cuisine, sports and sharing of best practices, and more.

Time and technology have narrowed down distances in terms of connect and communication. In an era that facilitates mobility and outreach, it is important to establish cultural exchanges between people of different regions, as a means to further human bonding and a common approach to nation-building. Mutual understanding and trust are the foundations of India's strength and all citizens should feel culturally integrated in all corners of India. As per the direction received from EBSB Cell, Department of Higher Education, MHRD, Maharaja Surajmal Institute of Technology has conducted various events to promote the objective of EBSB for our partnered Institute (Centre for Computers and Communication Technology (CCCT), Sikkim). Our future endeavours would be to promote the idea of a sustained and structured cultural connect between people of different regions by carrying out a structured engagement with our partnered institute in the spheres of language, literature, cuisine, festivals, cultural events, tourism and more.
Team members
Ms. Sonika Malik (Assistant Professor, IT)
Dr. Nishtha Jatana (Assistant Professor, CSE)
Ms. Deepshikha Yadav (Assistant Professor, ECE)
IIIC
The Industry-Institution-Interaction Cell (IIIC) has been established by AICTE. In order to ensure that technical students get exposure to the industrial environment and current technologies relevant to their subjects and opportunities to learn, understand and sharpen real time technical and managerial skills, AICTE has made internships mandatory.
The objective of Industry-Institution-Interaction Cell at MSIT is to establish purposeful interaction between the industry and institution. IIIC aims to bridge the gap between the institute and the industry and offers real time exposure on projects and other developments.
IIIC provides an excellent platform for both the students as well as the faculty members to be aware of industry expectations from the graduates. IIIC serves as a podium to exhibit the best practices, latest technologies in industry and their implementation.
Key functions of III Cell
Organizes Summer internships – in-house industrial training

Manages AICTE internship Portal (https://internship.aicte-india.org) to facilitate the students in getting suitable internship opportunities for better employability

Dissemination of Information for various Trainings opportunities for students in leading industries throughout the year

Prepares Memorandum of Understanding (MoU) between industry & institute

Conducts Industrial visits for students as well as faculty members

Organizes Lectures/Technical talks/Seminars/Workshops including members of industry experts, faculty & students of MSIT
Members of the III Cell
Dr. Amita Yadav (Convener)

Ms. Geetanjali Sharma (Co-Convener)

Ms. Swati Malik (Member)
E-YANTRA
The national inauguration of E-Yantra Laboratory at Maharaja Surajmal Institute of Technology, Janakpuri, New Delhi was done on 9th January 2023 in online mode by the E-Yantra Team of IIT Bombay, headed by Prof. Kavi Arya (the Principal Investigator, e-Yantra Project, IIT Bombay) under aegis of Ministry of Education, Govt. of India. ELSI Lab, acronymed as E-Yantra, is a Robotics outreach project funded by the Ministry of Education and hosted by IIT- Bombay. The goal is to harness the talent of young engineers to solve problems using technology across a variety of domain such as agricultural, manufacturing, defense, home, smart city maintenance and service industries. e-Yantra lab assures for providing a platform to the interested students to design and develop robotics based innovations in future.
Team Leader: Dr. Priyanka Nandal (Associate Professor, CSE)
Email: [email protected]
TECHSOC
TechSoc, the technical society of MSIT was formed by the amalgamation of various technical clubs pre-existent in the college. This was done to channelize the scattered efforts and to provide a common platform which catered to the technical needs of the students.
Under the able guidance and support of our conveners Ms. Kavita Sheoran (Assoc. Professor) and Ms. Nishtha Jatana(Asst. Professor), the society aims to flourish and continue with providing ample opportunities for the betterment of the students.
TechSoc serves it's audience by organizing various events in the form of speaker sessions, technical seminars and hands-on workshops on subjects from various domains. Some of them are as follows:
1. "Informative Seminar on Google Summer of Code" provided students with a complete guideline on participating and completing this coveted open source program.
2. In the session "Industrial Analysis on IoT and Embedded Systems" students were provided with a roadmap to enter this field, enlightened on future opportunities in IoT and role of embedded systems in various domains.
3. Another successful event was a two day "Hands-on workshop on Git and Github" where in two 2-hour sessions around 50-60 attendees were addressed. Students from knowing nothing about Git and Github were able to comfortably use it without any problem.
4. Apart from these there have been sessions on concepts like "Career in Computer Science", "Introduction to Data Science", "Robotics" and online sessions on "Android Development".
Another initiative in this direction is the Mentor-Mentee program which involves courses like web development, learning python etc. Each course involves learning technologies, using online resources, with weekly graded assignments being given by the mentors.
We aim that the associates always have a technically enriching time with TechSoc.
Convener: Dr. Kavita Sheoran (Associate Professor, CSE), Dr. Nishtha Jatana (Assistant Professor, CSE)
MUTANTS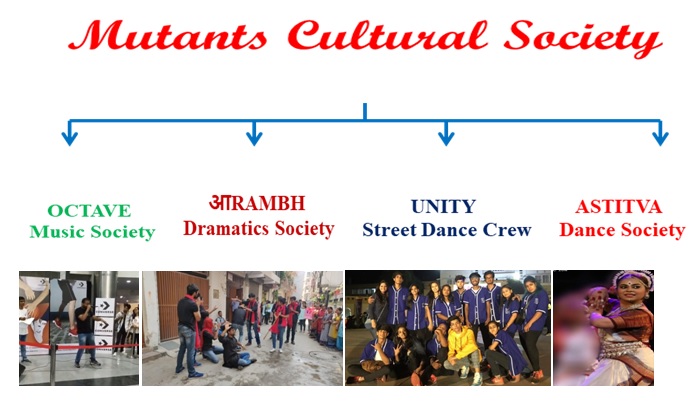 OCTAVE.pdf AARAMBH.pdf ASTITVA.pdf
In the assembly of the 'to-be-engineers' who tirelessly deal with codes and circuits, there exist a group of people, together called as MUTANTS CULTURAL SOCIETY, who've got an ardent love for cultural activities.
Mutants Cultural Society is a collective of Four Societies – OCTAVE Music Society, AARAMBH Dramatics Society, UNITY Street Dance Crew and ASTITVA Dance Society. All these societies work hand in hand with each other and as a part of MUTANTS always work for the betterment of the cultural scenario as well as for the upliftment of various talented students of MSIT.
With a constant support and motivation from the college administration and faculty, the society aims to have well planned, well prepared cultural team in MSIT. From regular training and practice sessions, to each rigorous jamming period, the determination of MSITians, becomes evident from their stage performances in various institutions.
e-mail: [email protected]
Mutants Convener:
Dr. Anju Singh Dhillon (Assistant Professor, Applied Sciences - 2nd shift), [email protected]
Ms. Deeba Naqvi (Assistant Professor, Applied Sciences - 1st shift), [email protected]
Student Coordinator:
J Ashwin Nair (7065599126, [email protected])
Student Head:
VEDA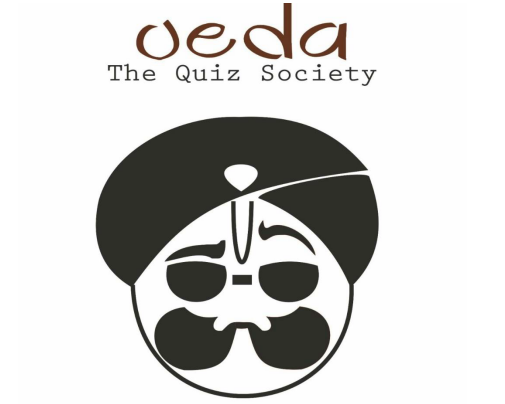 A mob of intrigued intellectuals, Veda is the 'crème-de-la-crème' of interactive societies where a diverse group of individuals, with a huge armamentarium of niche interests, work towards a common goal, which is to gain more knowledge.
Beginning as a small group of people interested in quizzing, we've grown to become a recognized and successful society whose events are attended and appreciated by quizzers across Delhi.
Our aim is to develop an interest in quizzing among the students and create a platform that fosters an environment for all quizzing enthusiasts to grow and learn. The members of our society bond over their curiosity and their shared passion for quizzing. Even the most fleeting of looks at our Whatsapp group will prove this statement. Students are constantly sharing questions relating to their favourite genres and others are busy geeking out on its details. This interaction between the curious, and the intellectuals, allows for a highly intuitive environment which in turn allows for collective growth among society members.
We have had numerous experiences worth mentioning as we have won a staggering 100+ podiums since the advent of our society including the hat trick we achieved in 2018 of winning a podium at the IPU Anugoonj Annual Quiz Competition. It's really tough to emerge victorious among 120-130 teams and we did it thrice in a row, and that is something we will always cherish.
Our society welcomes any and every kind of knowledge. Be it a Movie/TV shows fanatic, a Sports enthusiast, a Marvel/DC geek, a Biz fiend, an Information junkie, a Literature aficionado, a tech expert or a History buff, Veda is the society that is open for all who are curious. You will gain knowledge and will learn how to apply that knowledge in quizzing or in real life.
To know more about us you can follow us on Facebook (https://www.facebook.com/vedaqs) and Instagram (https://www.instagram.com/vedathequiz/ ). In case of any queries, you can also email us at [email protected]

Teacher-in-charge: Dr Sudesh Pahal (Assoc. Prof., ECE)
PRAKRITI
PRAKRITI MSIT
Prakriti, the environmental and humanitarian society of MSIT, was founded on 3rd March 2010. It aims at promoting environmental as well as social consciousness, awareness and responsibility amongst the college youth and the populace.
Prakriti organises a multitude of events both in the online and offline arenas such as campaigns, drives, competitions, camps, workshops, seminars, webinars and online series in an attempt to engage the maximum population in its endeavours. Clothes, food and books donation, donation for flood victims, Blood Donation Camp and ENVA are notable yearly events that Prakriti organises.
With an active online following in quadruple digits and a team of over 100 enthusiastic members, Prakriti stands as one of the most eminent societies of MSIT.
ENVA
ENVA is the annual cultural extravaganza of MSIT. It is organised by Prakriti MSIT every year. From dancing, debating and street plays to open mics, blind-dating and gaming events, ENVA has over 15 events in a span of 2 days - everything one can ask for!

HOMSIT
Humans of MSIT (HOMSIT) is a photo blog about students of MSIT. It marked its inception in the year 2018 and is handled by Prakriti MSIT. It delineates the stories of students and teachers and showcases it to inspire the masses to live with ever-enduring zest.

Teacher-in-Charge: Dr. Savita Ahlawat (Associate Professor, CSE)
Email: [email protected]
Website: http://prakriti.msit.in
GEEK ROOM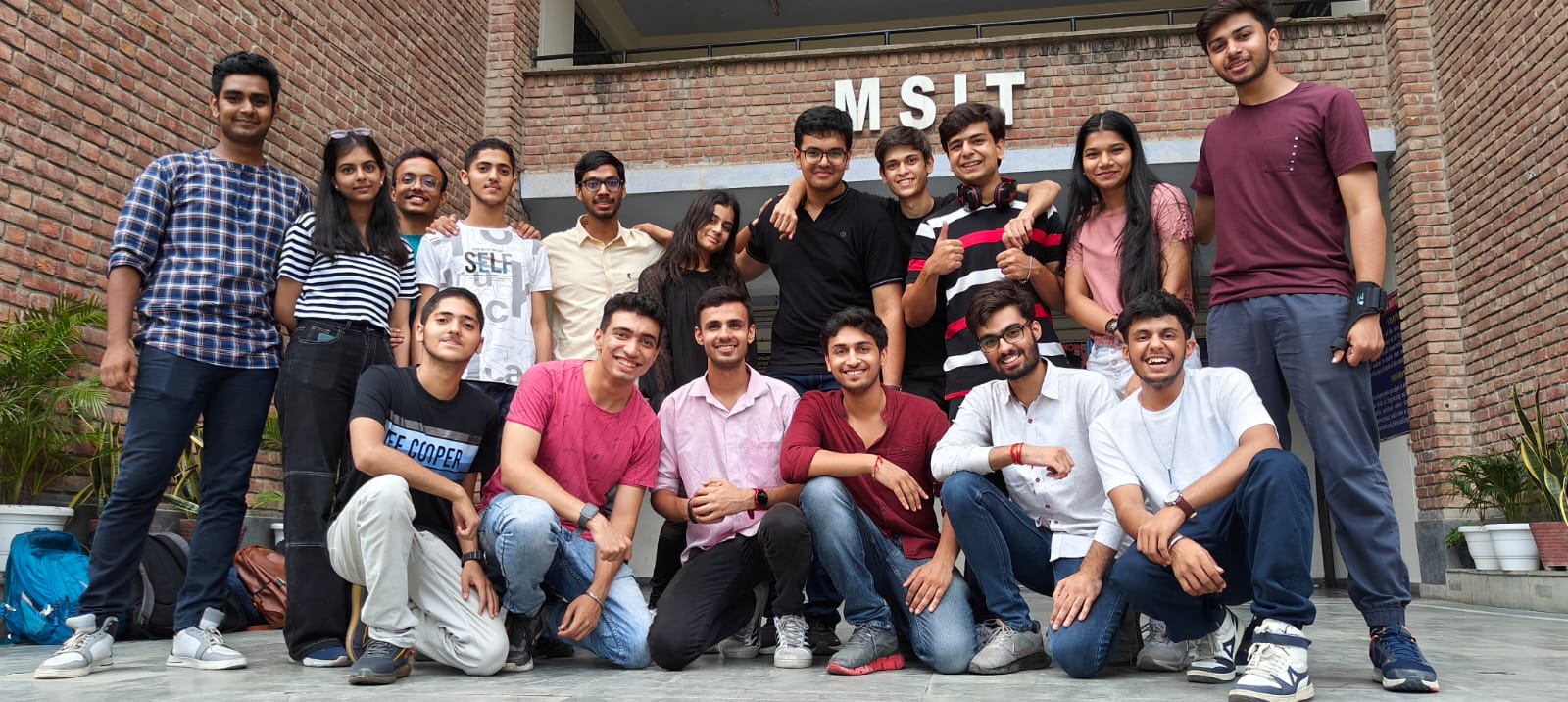 Geek Room at Maharaja Surajmal Institute of Technology is a thriving tech society with a mission to empower individuals in learning coding and technology from the ground up. The society is a dynamic hub of innovation, education, and collaboration, serving as a platform for students to dive into the world of technology and hone their skills.
The key objectives of the society encompass a wide range of activities:-
Fostering Coding Culture
Educational Workshops
Hackathons
Resource Sharing
Faculty Coordinators: - Prof. Rinky Dwivedi and Dr. Vimal Gaur, CSE Department.
Student Coordinators: Arnav Gupta (IT), Pratham Batra (IT) and Manas Chopra (CSE)
E-mail: [email protected] and [email protected]
BROADCAST SOCIETY
Welcome to BROADCAST MSIT: Shaping the Digital Landscape at Maharaja Surajmal Institute of Technology At MSIT, innovation is our cornerstone, and BROADCAST MSIT embodies that spirit by embracing the limitless possibilities of media and communication. We are delighted to introduce you to our dynamic student society that leads the way in media exploration, production, and dissemination.

About Us
Name: BROADCAST MSIT
At BROADCAST MSIT, we are more than just a student society. We are a creative hub, a platform, and a network that thrives on media innovation. Our name signifies our commitment to the world of media, as we broadcast our passion for storytelling, communication, and technology.

Our Work
BROADCAST MSIT is your one-stop destination for all things media-related. We excel in a diverse range of media work, which includes:
 Filming: We capture the essence of life, events, and experiences through our lenses, turning moments into timeless memories.
 Posting: Our digital-savvy team knows how to make your content stand out on various platforms, ensuring your message reaches the right audience.
 Podcasting: We dive into the world of audio storytelling, engaging our audience with thought-provoking conversations, stories, and discussions.
 Event Coverage: We're the storytellers of your college events, providing a comprehensive visual and narrative coverage.
 College Media Handling: BROADCAST MSIT takes pride in managing and curating the college's digital presence, ensuring every milestone is captured and shared.
 YouTube Management: We oversee and enrich the college's YouTube channel, offering a space for creative expression, learning, and collaboration.

Faculty Coordinators
 Dr. Aman Kumari Dahiya
Associate Professor | Ph.D., M. Tech., M.B.A., B.E.
 Mr. Sachit Rathee
Assistant Professor | M. Tech
Student Coordinators
 Aman Dhingra (CSE) (87005 81012)
 Geetikrishna Bal (EEE)
 Sambhav Suri (CSE)

To know more about us, follow our journey, and stay updated with our latest media endeavours, connect with us on

INSTAGRAM - https://instagram.com/broadcastmsit?igshid=MzMyNGUyNmU2YQ==
YOUTUBE - https://youtube.com/@broadcastmsit?feature=shared
LINKEDIN - https://www.linkedin.com/company/broadcast-msit/
E-MAIL – [email protected]
MLSA
Welcome to the MICROSOFT LEARN STUDENT AMBASSADOR(MLSA) STUDENT CHAPTER –MSIT: Your ultimate
destination for incredible sessions and events! Here, you'll learn from experts, seniors, and peers and grow through their mistakes,
experiences, successes, and failures. We're here to guide and prepare you for whatever challenges lie ahead. Brace yourself for a
thrilling journey filled with exciting and amazing opportunities! 🚀🌟
Here are some attractive servings we offer which you won't be able to say no to! :
- Microsoft Office visits for amazing cohorts and guidance sessions for various tech stacks.
- We provide you with our mentors who are already acing it at Microsoft and will guide you on how to reach there yourself through
various Microsoft Internships and Full Time Opportunities.
- Guidance for various Microsoft Student Programs.
- You get to be a part of amazing Microsoft and MLSA events.
So what are you waiting for?
Join us and be a part of this amazing team of your interests with both technical and non-technical domains!
MLSA Student Chapter MSIT Convener: Dr Meena Rao(Associate Professor, ECE)
MLSA Student Chapter MSIT Member: Dr. Parul Chaudhary(Assistant Professor, CSE)
MLSA Student Chapter MSIT Student Lead: Anusha Tomar
MLSA Student Chapter MSIT Student Lead: Ved Mohan
Connect With Us Here: https://bit.ly/3FTrLEU
Our Email:- [email protected]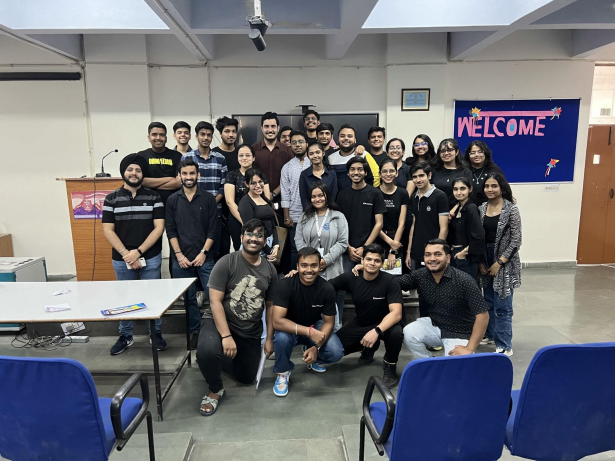 NDLI CLUB
(Vision: "Strength through collaboration")
The National Digital Library of India (NDLI) represents a digital endeavor initiated by IIT Kharagpur and the Ministry of Education, as part of the government's Digital India Project. Its objective is to provide access to an extensive collection of educational resources available in various formats and languages. NDLI CLUBS are set up in institutes and nodal bodies, following this NDLI club MSIT has been set up in our esteemed institution.
OBJECTIVE:
The primary objective of the NDLI Club is to foster digital literacy and enhance students' access to knowledge. To accomplish this, the club offers a platform for students to conveniently retrieve and utilize the digital resources stored in the NDLI database. Also, this Club conducts events to facilitate students to develop knowledge, skill and traits beyond regular curriculum which are essential for their progression in respective professional domain. The events may be either physical or virtual. Virtual events are web-based and are conducted through the NDLI Club portal.
VISION:
The overarching vision of the NDLI Club is to cultivate a generation of digitally-savvy students, empowered with the expertise and abilities required to navigate the digital realm and access learning and research materials.
The NDLI Club functions as a consolidated platform for the registration of all Institute events, including workshops, competitions, seminars, and discussions. This platform simplifies event management and enhances transparency within our college. By utilizing the NDLI Club, all events are recorded and documented before execution, ensuring an organized and responsible approach. It serves as a central hub for event organizers, participants, and authorities to interact seamlessly, fostering a collaborative environment and improving coordination among various societies through the advance registration of events.
BENEFITS TO THE INSTITUTION:
AICTE has mandated that all institutional events must be registered through the NDLI club. Consequently, the NDLI Club MSIT ensures a smooth AICTE approval process.

The NDLI club empowers student societies and departments at MSIT to organize a wide array of activities and events using a user-friendly interface. To register an event with NDLI Club MSIT, the necessary event/activity details include a poster with the date, time, venue, a brief description, and the event rules, among other information.

The NDLI Club enhances event visibility to the Ministry of Education, Government of India, by providing them a report of the same.
BENEFITS TO STUDENTS:
By registering at the official NDLI portal students can have access to a vast digital library with a wide range of educational resources, academic papers, journals, books, and multimedia materials, fostering enhanced learning experiences.

The National Digital Library of India (NDLI) is highly informative and user-friendly. It grants complimentary access to an extensive collection of educational resources in diverse formats and languages.

The NDLI platform offers certificates to all engaged participants through easy access via the NDLI club MSIT account upon event completion. These certificates are granted by the NDLI Club, a project affiliated with IIT Kharagpur under the Ministry of Education, Government of India.
Event Registration Process:
Fill the event registration form: https://club.ndl.iitkgp.ac.in/club-home

Get it initially signed by the Director (MSIT).

Share the poster consisting date, time, venue, a brief description and rules etc. with the respective incharges (contact library, if required) of MSIT NDLI Club.

Ensure to have minimum 100 participants registered via MSIT NDLI club.

Finally get it sign by the Director MSIT after the completion of the event along with event report.
Faculty Coordinators: - Ms. Reetu Verma (Librarian), Dr. Nidhi Gupta (Assistant Professor)
Student Coordinators: - Ifra Siddiqua (President) & Shubham Panwar (Vice-President)
Email: - [email protected]